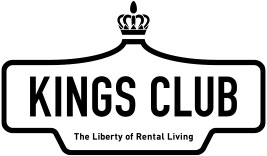 CHALLENGE
Kings Club, a new high-rise development in Liberty Village had an interesting problem. The building offers one, two, and three bedroom suites, with upscale amenities, in-suite laundry, and a rooftop pool. But it's not a condo. It's a new kind of rental living referred to as a 'purpose-built rental' and one that Toronto market, was unfamiliar with. This posed a significant challenge: how do you drive interest and rentals for a product offering that most people didn't understand or know existed?
SOLUTION
Our solution was two-fold. Firstly, from a brand identity design perspective, we had to position the Kings Club brand in a way that clearly communicated the brand promise, so that there was no confusion. Additionally, given Toronto is a city of neighbourhoods, it was important that the brand reflect the attitudes of our target audience and the virtues/characteristics of Liberty Village – trendy, upscale, community-minded, contemporary, yet historic.
Secondly, from a marketing communication standpoint we needed to educate the local market on this new type of rental living. Utilizing a mix of communication channels, the campaign clearly demonstrated the benefits of upscale rental living in one of Toronto's most sought after neighbourhoods and cut through the crowded marketplace with clever, breakthrough creative.
RESULTS
In addition to the logo and tagline, we developed a Kings Club microsite (to capture leads), construction hoarding, online ad units, and direct mail. We also created all the collateral material and signage for the rental centre. Kings Club will open in late spring 2019.